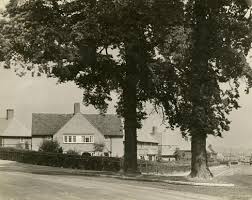 'She was close now. The estate of miners' cottages sat in a clearing in the woods. Chestnut Avenue, Beechwood Road, Elm Avenue, Oakwood Close. Paths twisted through dark tree canopies where she and her sister had played as children. It felt like Thorndale, and so different. When they came here to Barnsfield they had a new house with two big bedrooms and a small room for Frank. The toilet had a bath in it (you must call it the bathroom, Violet). There was a parlour room at the front, clean and quiet where Ma could rest, away from the smell of cooking, and the fuss of Pop having a wash after work: he had never lost the habit of washing at the sink.'
This passage from The Peacemaker is a fictionalised rendering of my memories of my grandparents house in Basil Avenue, Armthorpe near Doncaster which they were allocated when my grandfather got at job at Markham Main pit in 1927. I visited the house until 1963 when my grandfather died, and it is reused as a setting in my new work-in-progress 'How Could I Dance?' a sequel with a very different flavour. The picture below is a similar type of house from that period.
This year marks 100 years since the Addison Act which led to the building of social housing between the wars, and which, together with workers' housing provided by the National Coal Board and other large employers, helped people find work and raise their families. For subsequent generations though, successive governments have failed to invest in sufficient social housing to meet needs and our obsession with owning property has distorted the housing market. I worked in housing all my career from 1979 to 2018, and even now can't let go of trying to address how important it is as a social issue, even in my fiction.